LEGACY OF RALPH J. WHITINGER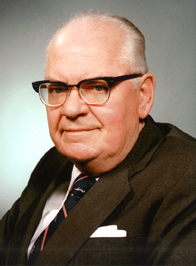 After Ralph J. Whitinger's 1929 graduation from Ball State, he formed R.J. Whitinger & Company public accounting firm in 1930. The firm became a partnership in 1945 and today has offices in Muncie and Fishers, Indiana.
Whitinger began his professional service to his alma matter in 1940, when he was treasurer of the Ball State Alumni Association. In 1951, the Ball State University Foundation was established under his leadership.
In 1978, the university honored Whitinger by naming its new home for the College of Business the Ralph J. Whitinger Business Building. The Whitinger Scholars program for gifted students is also named in his honor. His spirit lives on through the many initiatives he was part of for Ball State University.
The leadership Whitinger espoused in the Ball State community lives on as the firm continues its partnership, support and investment with the university and the Miller College in many ways. Whitinger Associates continue to support the Whitinger Scholars Program, provide scholarships for accounting students, serve on the Accounting Advisory Council, hire Miller College interns and graduates, and serve on the Ball State Foundation Board of Directors.
Whitinger & Company LLC has a rich history of providing support and assistance to deserving students through a time-honored scholarship program dating back to 1976.
The Whitinger Scholarship is the signature scholarship of the Ball State Honors College, and is the most prestigious scholarship awarded by Ball State University. Created in 1976 in honor of Mr. Ralph Whitinger, a 1929 Ball State graduate, the scholarship was initially supported by the Ball State University Foundation under the leadership of Mr. Whitinger. Upon Mr. Whitinger's death in 1982, scholarship funds were provided from Mr. Whitinger's personal estate and continued from the legacy of his widow, Geraldine Whitinger. Upon Mrs. Whitinger's death in 2002, the full legacy, valued at over $8,000,000, was bequeathed to support not only the Whitinger Scholarship, but expanded the endowment to include the Whitinger Scholars Program.